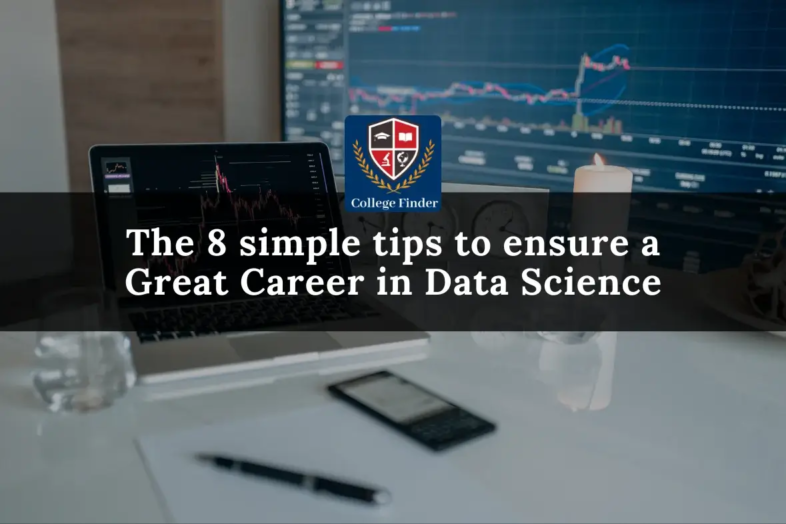 Overview
Data science is undoubtedly the hottest topic in the past decade. The social networking site LinkedIn ranked data scientist as the most promising career in 2021, and the job search site Glassdoor called it the best career in the United States. Choosing data science as a career can not only help you earn a high salary but also increase your job satisfaction. The report pointed out that in the survey of job satisfaction, data science topped the list.
But the reality is that it may not be easy to occupy a place in the field of data science because data science requires high qualifications and attitudes.
Here, let us look over some of the best tips to start a data science career.
Best ways to start a data science career :
1) Learn the basics correctly
Just like other majors, the most important thing is to master the basic knowledge correctly. Therefore, you should be investing adequate time in the learning part and learn more about your future work. It is better to give yourself some time to learn the tips and tricks of data science rather than to enter the industry confusedly.
It takes at least a year to learn the basics of programming languages such as Python, (here's a 2 weeks Beginner to Expert Python Course for a kickstart) and absorb relevant knowledge to gain deeper insights into extensive data analysis. Moreover, it is best to mix your learning pathways (including textbooks, journals, and online courses) and even learn by listening to podcasts. Participating in training camp courses can speed up the learning process and enable you to learn many areas with half the effort.
2) Choose the proper role
Let us see clearly what is waiting for you in your data science career. Ambitious people usually only target the most promising data scientists, ignoring other related professions in data science.
For many people, data science is their dream job. They have rich work experience and a fantastic salary. A data engineer is likely to be a good choice if you are a software developer looking to change careers.
Similarly, you can target other positions in data science. A few of them are business intelligence (BI) developers, data architects, application architects, infrastructure architects, enterprise architects, data analysts, machine learning scientists, Statisticians, etc.
Each role is suitable for a specific kind of person, so please carefully consider which role is best for you. First, find the role that suits you best, and then work towards it.
3) Participate in relevant courses
After determining the role type, the next step is to take a relevant course specifically for that particular field. You need to have firm determination, learn from start to finish, and continue to do it. There are many courses and certifications to help aspiring people like you. When considering, you must choose some relevant courses that can actually help you achieve your dreams.
4) Pay attention to practical application
It is prevalent to see courses that only focus on theory and ignore practical applications. Therefore, please ensure that you do not make mistakes and focus more on practical training and courses that provide you with long-term help. You can even try to apply theories in your daily life scenarios to understand how to use data analysis in your life.
It is an excellent choice to practice Excel to understand how to deal with data more effectively to provide insights.
"CF Trainings" have a great Data Science course for you, which includes a lot of hands-on projects based on what you learn, so you can learn and with parallel to that apply your knowledge. 
Case studies are another excellent option. More importantly, review them every week to discover your weaknesses and improve them. Before entering the industry, you can build your own small application to understand how it works.
In addition, to practice complex explaining issues to the masses, after becoming a data scientist, you must convey your insights to the ultimate stakeholders.
5) Improve communication skills
Having deep technical knowledge does not automatically make you enter the data science industry. What the interviewer needs most is the candidate's communication skills, which are the key to the development of this career. Become an excellent communicator; you can share analysis ideas with your team and convey your views in meetings.
Having a good idea in your mind but not expressing it through communication is…failure! Therefore, before you plan to participate in an interview for a position, try to improve your communication skills.
6) Participate in the coaching program
In addition to being an excellent communicator, continuing to participate in the coaching program can release your talents. Joining a one-to-one tutoring program may be a good idea. Find your own tutor. Data science beginners can use this as an opportunity to meet more experienced data scientists and invite them to share ideas about your work. Not simply asking for guidance.
You can also spend some time posting your work online to demonstrate your skills during the interview.
7) Stay social and stay informed
Using social media platforms is a good choice, and building a network with like-minded people is good. Keep an eye out for online data science events and groups where you can find some people who can actually provide you with support and inspiration.
You can start with someone you know very well and then expand your network. Stay socially aware and make sure you don't miss an important opportunity for top companies to release new technologies. More importantly, keep abreast of the latest developments in the data science industry, which can definitely help you stay ahead of the competition.
8) Promote and express yourself
Once you enter this industry, make sure you prepare your Digital Footprint to attract passionate people like you. The best thing to do is organize your LinkedIn profile and craft a great resume to show how important you are to the company. Learn how to showcase your education and experience and attract companies to contact you proactively. 
Conclusion
The need and the demand for data science are on the rise. It is not surprising that employers have invested heavily in selecting the right talent. As an aspiring person, it is crucial to take the proper steps because fierce competition will not give you a second chance.